Respected vice chancellor Dr. Rukhsana Kausar and director sports on opening ceremony of sports with president sports of GC.women university Sialkot (Hamna Zaheer)
Group photo with Worthy Vice Chancellor Prof. Dr. Rukhsana Kauser and sports Incharge Miss Atia Altaf. These students played national and Interboard level.
---
Worthy Vice Chancellor of GC Women University as a Chief Guest in volley ball match which was won by GCWUS.
---
Respected Vice-Chancellor appreciating Sports students for their affective performance.
---
University student Tayyaba Jabbar won gold medal in HEC handball team along with President of Pakistan Handball team and Sports Incharge.
---
A group photo of university sports student after getting second position in Football University Super League Tournament.
---
Group photo of Athletics Players in Intervarsity at Punjab Stadium.
---
A group photo of Cricket match in Faisalabad at Faisalabad ground.
---
Bronze medal won by students after a very tough match in Islamabad in All Pakistan Sports Board games.
---
11 students selected for 72nd Olympic Punjab Games and performed satisfactory and impressive performance.
---
Held 3rd position at divisional level in All Pakistan Sports Board games after a lot of hard work and dedicating lots of efforts in All games throughout the year.
---
Mahnoor Tariq winning 1 lac cash price in Chamber of Sialkot with Sports Director Atia Altaf.
---
Mahnoor Tariq China tour under the program of Kamyab Jawan started by the Prime Minister of Pakistan.
---
Group Photo of GC University Team at Sports Complex in Islamabad at Kamyab Jawan Intervarsity Sports Gala 2021.
---
Hockey Team participation in Hockey Matches in Sports Complex.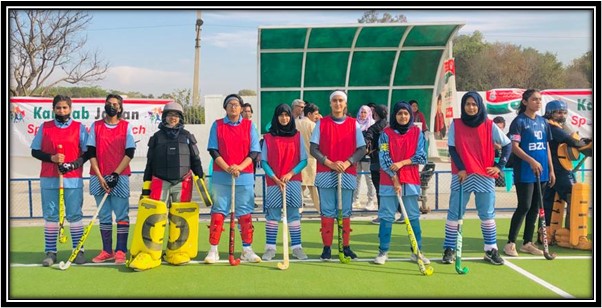 ---
University Volleyball team after effective performance got selected for Semi-final Matches.
---
GC Handball Team after a lot of efforts won 3rd position in Handball at Kamyab Jawan Intervarsity Sports Gala. Team also won bronze medal along with cash prize.
Athletics players after a really tough competition got position in heats and got qualified for final races.
Group photo of Handball team and Handball Coach Sir Mansha with Worthy Vice Chancellor and Sports Director Atia Altaf after winning trophy in HEC Kamyab Jawan Sports Gala.