Two Day Workshop on "Cognitive Behavior Theory" on 22 – 23rd DEC' 17
Respected Deans & HoDs & In-Charges Department,
It is my profound privilege to invite you to a two-day workshop on "Cognitive Behavior Theory" on 22nd – 23rd December 2017 in main Auditorium Hall, GCWUS organized jointly by ORIC and Department of Psychology.
Department:  ORIC and Psychology
Date of Event: 22nd & 23rd December 2017
Time of Event: 9 am to 2 pm
Guest / Speaker: Dr. Zaqia Bano (Clinical Psychologist / Assistant Professor at University of Gujrat)  and Mr. Mohammad Aslam, (Cognitive Behavior Therapist /Clinical Psychologist/ Chief Coordinator of Pakistan Association of Cognitive Therapists)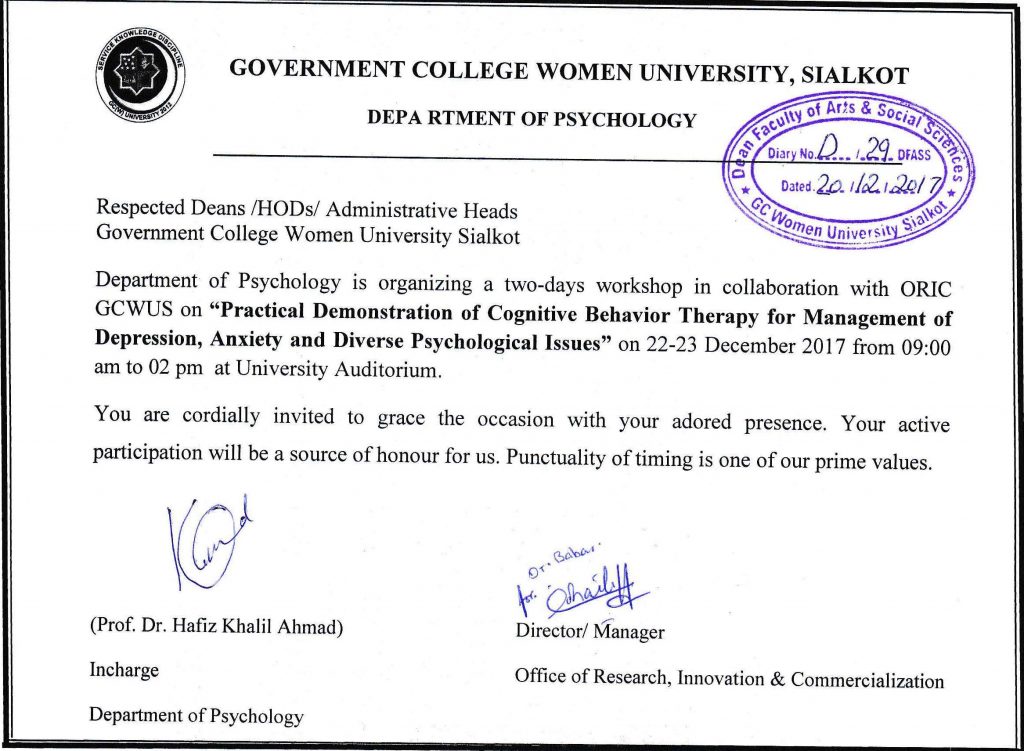 Purpose of the seminar:
To assist the university students in gaining to increase their knowledge to use the different psychological interventions based on Cognitive Behavior Therapy.  The workshop will impart essential strategies with a practical demonstration which targeted population may begin to use to ameliorate the psychological issues such as Depression, Anxiety, and Addiction.
Looking forward
—
Best Regards,
Sohaib Saleem
Manager ORIC
Government College Women University, Sialkot