Sialkot Developing Innovative Model District/Cluster
EVENT TITLE: 8th Invention to Innovation Summit, Punjab
Session: Sialkot: Developing Innovative Model District/Cluster
DATE & TIME: 2nd – 3rd April, 2019/ TOTAL DURATION: 2 days
VENUE: CEMB – University of the Punjab, Lahore
ORGANIZED BY DEPARTMENT: Sociology
Panelist:
1) Special thanks to Prof. Dr. Hafiz Khalil sb.
Vice Chancellor – GC Women University Sialkot
Very sorry for the sad demise of your father, May Allah grant him high ranks in Jannah (Ameen). Truly appreciate your joining the session, despite the news.
2) Heartiest wishes and appreciation for our Session Chairs:
i. Prof. Dr. Ijaz Qureshi
Vice Chancellor – University of Sialkot
ii. Dr. Nazir Hussain
Advisor to Chairman – University of Lahore
iii. Mr. Jarar Awan
Awan Sports, Sialkot
iv. Dr. Hafeez Fazli
Philosophy Department – University of the Punjab, Lahore
v. Justice Syed Sharif Hussain Bokhari
Prof. of Law
vi. Dr. Imran Khan
IBA, Karachi
vii. Ms. Faiqa Salman
Private Schools Parents Association
viii. Ms. Rabia Armaghan
CEO E.Educators
ix. Mr. Tahir Bashir
University of Management & Technology ,Sialkot
Alburhan Islamabad
x. Ms. Aqsa Abdul Muqeet Khan
Philosophy Department – University of the Punjab, Lahore
xi. Ms. Humda Khan
Knowledge Head – University of Management & Technology, Sialkot
Fashion & Textile Department
xii. Dr. Rashida, Yasir Ammar and IPR.
All other respected guests and students who graced the occasion.
TARGET Institutions on Board:
Sialkot Chamber of Commerce & Industry (SCCI),
Industrialists,
Professionals from all Social Sciences,
Natural Sciences and Management Sciences from GCWUS,
IBA,
UOS,
UMT-Sialkot,
IPR,
SATHA,
SIMAP,
P.U ,
UOL,
UMT-Lahore
ORGANIZING TEAM
TEAM LEAD(S)
Name Ms. Ayesha Usman (Project Lead)
Designation HOD-Sociology
Contact No. 0333-8611444
Email ID ayesha.usman@gcwus.edu.pk
Name Ms. Bukhatawar Khan (Project Coordinator)
Designation Lecturer-Sociology
Contact No.0334-1203310
Email ID bukhatawar.khan@gcwus.edu.pk
Others:
1. Ms. Shafaq Arshad
2. Ms. Kiran Usman
3. Ms. Saba Javed
TEAM MEMBERS
1. Name Khatija Ansir
Designation Student/ Social work Society Member
Contact No 0315-0792567
Email ID khadeejaansir@gmail.com
And Creative Team of Sociology Department, GCWUS
The phrase and idea of Invention to Innovation Summit was coined by Mr. Abid H K Shirwani and initiated by Ms. Ayesha Usman, HOD Sociology – GCWUS. The objective was to provide an annual event and arrange three main stakeholders of Innovation; Academia, corporate sector and public sector, where academia can sell technologies, industries can buy and other stakeholders like Govt. can facilitate the process. It provides an opportunity to showcase the indigenous research which is going on in academia, R&D institutes, industry and public sector organization.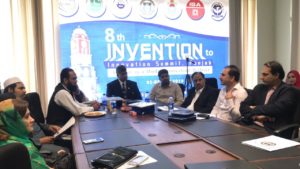 Vision:
Ensuring 10 times growth and socio-economic development of the district, by shifting from factor-driven and efficiency-driven economy, towards innovation-driven economy.
Methodology/ Approach:
Triple helix approach of development – Academia – Industry – Government Sector
Governance – Peace, Law & Order, Justice
Investment in Education and R&D
Future Prospectus:
Networking
Collaboration
Joint ventures
Fellowships
Faculty Exchange Programs
Student Exchange Programs
Semester Exchange Programs
Joint Trainings
Virtual Learning
Scholarships
OUTSTANDING ACHIEVEMENT AWARDS:
Department of Sociology, GCWUS is awarded with 9 outstanding awards/ Shields and 61 Certificates in different Categories.
8 Outstanding Awards/ Shields:
Project Lead Award presented to Ms. Ayesha Usman, HOD-SOCIOLOGY (GCWUS)
BEST Session Award presented to Ms. Ayesha Usman, HOD-SOCIOLOGY (GCWUS)
Project Organizer Award presented to Ms. Bukhatawar Khan, Lecturer-SOCIOLOGY (GCWUS)
Project Coordinator Award presented to Ms. Bukhatawar Khan, Lecturer-SOCIOLOGY (GCWUS)
Project Graphic Designer Award presented to Ms. Bukhatawar Khan, Lecturer-SOCIOLOGY (GCWUS)
BEST Project Management Award presented to Ms. Bukhatawar Khan, Lecturer-SOCIOLOGY (GCWUS)
BEST CASE STUDY Award presented to Dr. Imran Khan, IBA-Karachi & Ms. Tajalli Fatima, BBA (GCWUS)
BEST DOCUMENTARY Award presented to Fiza Bahar, 6th Semester Student- SOCIOLOGY (GCWUS)
SATHA AWARD & Gold medal presented to External member of SEP-GCWUS Ms. Rabiya Armagham