One-day Science Exhibition at GCWUS
The students 6th and 8th semester of BS Botany SSDP, arranged an event of science exhibition in the university, under the supervision of Ms. Adeela Farooq and Ms. Ayesha Islam. They urged the students to do the event and the students of semester 6th and 8th SSDP did the job very enthusiastically. Ms. Adeela Farooq and Ms. Ayesha Islam gave the event Theme of "Under the page of STEM which is a broad discipline of education refers to Science, Technology, Engineering and Mathematics. Every single individual performed the given task in a good manner and the event turns out to be fantabulous. The credit goes to Ms. Ayesha Islam and her students of Botany SSDP. Students of 4th and 6th semester of morning program was also part of this exhibition. They exhibited their critical thinking through their projects. The purpose of the event was to engage the students in education because during the pandemic students became quite lazy but the event made them energetic again.
The students of botany department made excellent models for exhibition, most of the models were about the sustainability of environment, the use of medicinal plants and how Quran teaches us the value of plants. Pamphlets about awareness of corona virus vaccination were also distributed. On Tuesday 29-june-2021 the event was started at 10:30 am in Haier Lab.
All the faculty members were invited. Chairperson of Botany Department, Dr. Zarrin Fatima Rizvi, along with the faculty members arrived on the respective location. Students gave them a warm welcome. After this the faculty members visited every stall and students briefly explain their project models.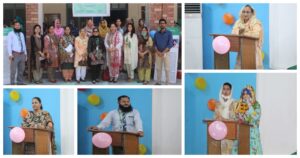 Students of morning program explain the importance of plants through the verses of Holy Quran.  After the complete visit the faculty members and guests had their seats and main event was begun. It was hosted by two students from B.S Botany SSDP semester 6th, Sana and Hajra. All the teachers, Guests and students stands up in the honor of National anthem. Then the event begins by the recitation of the verses of Holy Quran. Dr Zarrin Fatima Rizvi, Chairperson of botany department addressed the guest's audience, her speech was indeed so motivating and informative. She advised the students about honesty, intentions, women integrity and dedications towards studies. Then the senior members of botany department addressed the gathering. Then our guest Head of Education department, Dr. Latif gave his remarks about the event and advise the students about some moral values, undoubtedly his speech was worth listening. After all the speeches of honorable teachers, all the members were called for a memorable group picture.
And this is how the event comes to an end. Thanks to all the faculty members who visited and gave their words of appreciation to the students.