Farewell Party for passing out Dept of Chemistry Students
Date:             23-05-2017                Venue:          Hotel "The Jeeven's"             Time:             11.00 am—02.00pm

Participants:
                  Guest: Students of B.S 8th semester, M.Sc. 4th semester
Host: Students of B.S 6th semester, M.Sc. 2nd semester
Target Audience/Participants:
Faculty members from Chemistry Department, Students of B.S 8th semester, M.Sc. 4th semester, Students of B.S 6th semester, M.Sc. 2nd semester
Organizing Team
Team Lead(s)
Name: Nuzhat Munir
Designation:  Head of Chemistry Department
Name:   Dr. Tayyaba Shahzadi
Designation:  Assistant Professor

Leading Team Members 
Name: Saira Hassan
Designation: Associate lecturer 
Name:  Mariya Moeen
Designation: Lecturer
Name: Faseeha Maqsood
Designation:  Lecturer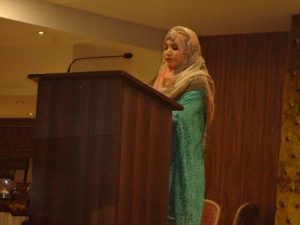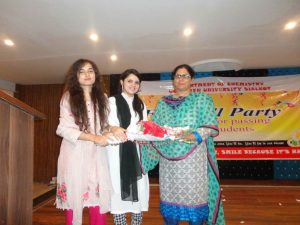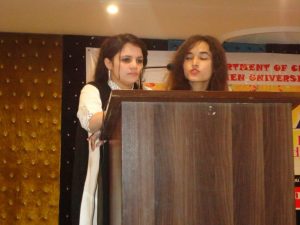 Event Details:
Event was inaugurated by recitation of verses from Surah Al-Rehman with translation. Muqaddas from B.S 6th sem got this honor.
Huunza from M.Sc. 2nd sem enchanted naat in her melodious voice.
After naat, Hazima presented a welcome speech to honorable HOD, faculty members and guest students of B.S and M.Sc. Hazima and Maham anchored the whole event in interesting and communicative way.
A funny skit with title "Anarkali 2017" was performed by maria and fellows to entertain the audience. This performance was applauded very much by faculty and students.
After that Sahar and Virginia performed on a mesh up song to welcome the guests.
Then a group of students presented a really entertaining play on the title "Heer Ranjha of 21st century". This skit amused the audience really well and hall was echoing with clapping and cheers.
Zumer from 6th semester coated the message of Iqbal by selecting a piece of poetry. She in her effective voice and style presented the verses to deliver the thoughts of Iqbal to young generation.
A Comedy Qawali by Sheherbano group of 6th sem also got real appreciation from audience.
This entertainment program was continued and "personality titles" were given to guest students according to their specific habits and outlook. This made their day more memorable.
A thank you speech was conducted by Faria from B.S 8th sem to acknowledge the efforts V.C, HOD and faculty members of chemistry department to make their journey of 4 years a worthy and fruitful one. Students also performed small clippings of their lab/ class activities in a humorous way during the speech.
Then a presentation of sweet and beautiful memories was played to revise and re-invent the whole time of their academics/non-academic activities in the university. Pictures of older events and memorable days and functions were compiled in that beautifully.
At the end HOD Mis Nuzhat Munir was requested to come on the stage. She spoke to say good luck and farewell to passing out batch. She not only encouraged the students for higher education but also guided them about its needs. She also praised the efforts of host students and faculty members for their efforts in conduction of program. After that lunch was served and program ended.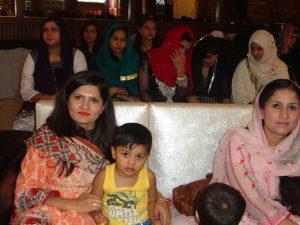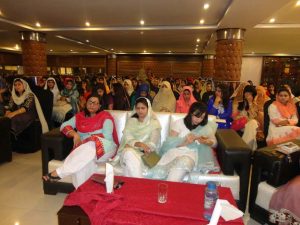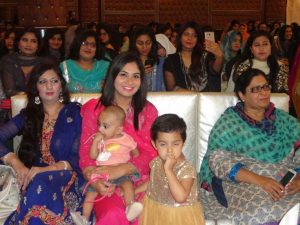 Coordinator of IT Service                 Event Coordinator                 H.O.D
Dr. Amina Sadiq                               Dr.Tayyaba Shahzadi            Mrs. Nuzhat Munir