Faculty Professional Development Training 2017
A three days Faculty Professional Development Training program dated 6th September 2017 to 8th September 2017 was arranged in Government College Women University Sialkot. It was organized under the supervision of Dr. Muhammad Ilyas (Chairman Department of Economics and Director Research and Training).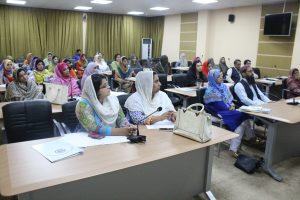 This training was conducted to enhance the professional skills of the faculty members. Dr Hafiz Muhammad Khalil, (Dean of Social Sciences), Dr. Haris Rashid (Dean, Natural Sciences), Prof Naila Arshad (Chairperson Department of English), Dr Muhammad Ilyas (Chairman Department of Economics and Director Research and Trainings), Dr Afzal (Chairman Department of Urdu), Dr. Humaira (Head of Political Science Department), Dr Zahid Butt (Associate Professor Department of Botany) and Mr. Ejaz (Director QEC) participated in the orientation ceremony of the training.
The resource persons for this training were two HEC Master Trainers from Government College Women University Sialkot; Ms Safoora Batool Syed (Lecturer Department of English) and Ms Zohra Kabir (Lecturer Department of Botany. Both of them have attended seven weeks training from Learning and Innovation Division, HEC Islamabad. In two days four modules were covered that are; CLUE (Competent (English) Language Usage Essentials), Microteaching, Academic Planning and Management and Self-Awareness and Reflections: Means of Professional Development.
The third day was for faculty Microteaching presentations in which every presentation's video was recorded and later shown on multimedia screen. The presenter, participants and the master trainers appreciated as well as critically evaluated it and suggested the areas of improvement. Everyone participated actively. It was an effective knowledge sharing three days training session that completed successfully with the grace of Allah Almighty.