CLEAN & GREEN PUNJAB
In line with the Prime Minister H.E Mr. Imran Khan's vision of Clean and Green Pakistan, a project started in Punjab with the name of "CLEAN & GREEN PUNJAB". The commencement ceremony was organized in Government College Women University Sialkot (GCWUS) where Chief Security Officer Col. Gillani and Additional Registrar Ms. Attia Almas hosted this wonderful initiative on the behalf of GC Women University today 13th October, 2018 at 11am.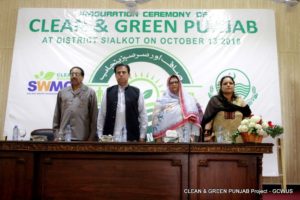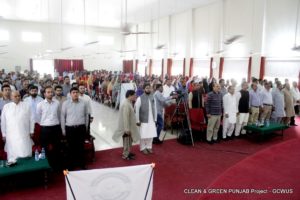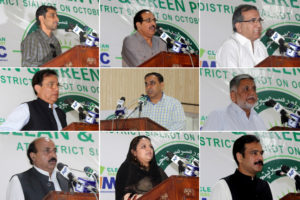 This ceremony was presided over by Chaudhry Akhlaq sahb (Provincial Minister of Punjab for Special Education), whereas Ms. Hina Warraich (Chairperson District Council Sialkot) was the Chief Guest. Ceremony was also attended by Additional Deputy Commissioner Gen. Munawar Hussain Langrial, Assistant Commissioner Mr. Saeed Ahmed Manj, Managing Director SWMC Mr. Sheraz Warraich and CEO District Health Authority Dr. Liaqat Ali.
Dignitaries shared their contributive views on the project and ensured unconditional support for the good of Pakistan. In the honorable Provincial Minister and Chairperson Distt. Council planted plants and also observed symbolic cleaning drive.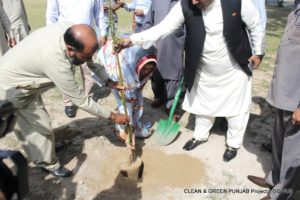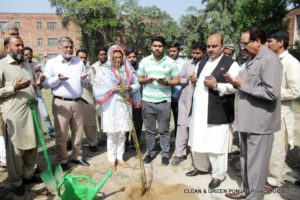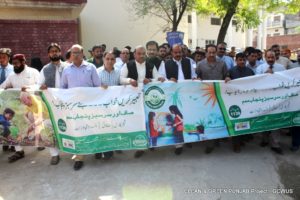 Ceremony was hosted by the District Emergency Office, Mr. Syed Kamal Shah, and attended by students, Gov. officials, civil society representatives and faculty members.