A Webinar Titled : Micro-Gel Polymers for the Treatment of Contaminated Water
An online lecture was organized by Istakshaf Chemical Society (ICS) of Chemistry Department. The guest speaker was Dr. Umar Farooq who is an active researcher working at Punjab University, Lahore. Dr. Tayyaba Shahzadi and Dr. Hafiz M. Abd Ur Rahman welcomed the guest speaker and moderated the online lecture. In the start of the session worthy vice chancellor, Prof. Dr. Rukhsana Kausar appreciated the guest speaker and thanked him for sparing his time for the students of GCWUS. Moreover, she highlighted the importance of collaboration in research. She also motivated the students to become active researchers and innovators.
style="text-align: justify;"Aneesa Zafar, the member of Istakshaf Chemical Society introduced the speaker and formally started the proceedings of online lecture. Faiza Younas did recitation of few verses of Holy Quran followed by recitation of naat by Zahira Tariq. After that Dr. Umar Farooq gave an interesting and motivational lecture on "Micro-gel Polymers for the Treatment of Contaminated water". In his talk Dr. Umar Farooq discussed the role of polymers in our daily life and chemistry of polymeric gels. Respected speaker highlighted the global issue of waste water and significance of polymeric gels, as smart materials for the remediation of such water.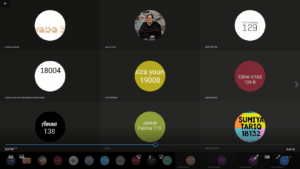 At the end of session, Chairperson of Department, Mrs. Nuzhat Munir, thanked the guest speaker on behalf of department of chemistry.